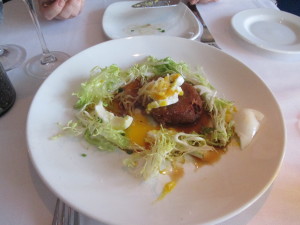 Overview
Chef:  Exquisite dining experience.  Amazing soups & appetizers, good entrées, and great beer selections.  Perfect for a date night with someone special.  The atmosphere was cosy without feeling crowded.  I will be back.
Foodie:  Pork, pork, pork.  Lots of pork options on the menu, yeah!.  An upscale dining experience.  The soups were the surprising highlight.  Good overall menu – appetizers, small plates, entrees, and desserts were all good.  The entree prices were high considering the portions were small, but the Small Plates section had good-sized options at cheaper prices.  The food flavor and creativity were outstanding.
What We Liked
Chef:  Some chefs believe the merit of a chef is based on the quality of their soup.  By that measure, the Red Feather has the best chef(s) in Cincinnati.  The food was flavorful and visually stunning.  I wanted to take pictures of all the plate presentations.
Foodie:  Best. Soup. Ever.  The soups were exceptional.  The asparagus cream soup was the best asparagus soup I've ever had, but the mushroom cream soup was even better.  The spinach fettuccine was a nice surprise.  Why did spinach fettuccine fall out of fashion in the 1990's?  The after-dinner coffee was very good.  We asked why the coffee was so good and they told us they have a special blend.  Wine and beer choices were excellent.
What We Didn't Like
Chef:  The entree portions were small, and mine needed salt– a lot of salt.  They compensated by providing a free dessert and port for us both.
Foodie:  Not enough sauces on anything.  Every dish had an amazing sauce but there wasn't enough of the sauce served.  The entrees were small and $21 is a bit much for a small chicken entree.
What We Ordered
P.I.G small plate, as an appetizer.  Braised pork topped with an egg in a braising jus (translation – pulled pork with a poached egg in a delicious braising meat juice).
Braised Short rib with polenta in braising jus.
Mushroom cream soup (wow)
Roasted chicken with spinach fettuccine and prosciutto crisps (translation – chicken with green pasta and fried thinly-sliced bacon).
Key lime pie for dessert
Chocolate hazelnut torte for dessert
Good For Date Night?
Yes, perfect for a date night with your honey.
Also good for taking picky in-laws from out of town.  You can get good food while they order a burger and complain about the foo-foo menu items.
Service
Chef:  Excellent.  Fast & friendly.
Foodie:  Excellent.  Friendly service.  The manager visited us twice on a busy Friday evening.  We got two glasses of free port and one free dessert – awesome!
Atmosphere
Upscale feel.
Bathrooms were clean but located in a weird location downstairs.
Kid Friendly
Attire
Best dressed woman in the place was wearing a sleeveless, knee-length, dinner dress with heels.
Best dressed man in the place was wearing dress slacks and a dress shirt.  No ties.  No suit coats.
Worst dressed woman in the place was wearing casual slacks and a nice t-shirt.
Worst dressed man in the place was wearing khaki shorts and tennis shoes with a button-up shirt.
Age of Diners
Most diners were over 40.  Several couples under 30.  One group had an infant baby (who was thankfully sleeping the whole time).
Part of Town
Oakley, East Side
45209
In the old Boca location
Street parking only.  No valet – ugh, hate when restaurants without parking don't provide valet.
Area felt very safe